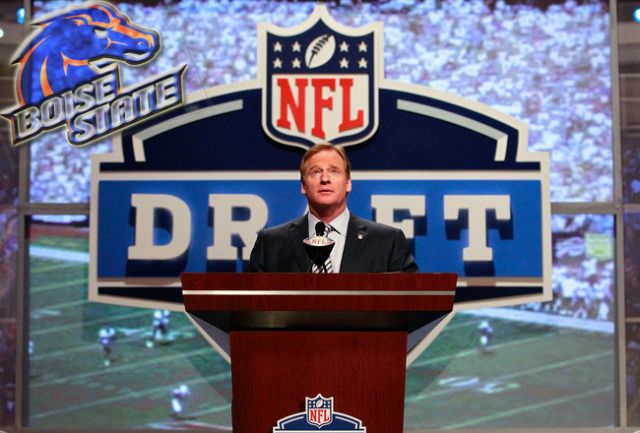 Three days to go and a record number of Boise State players are preparing to depart Boise in hopes of getting to the next level. With as many as two Bronco's projected first round picks Doug Martin and Shea Mc Clellin a whole host of Bronco's look to go from round 2 and on, with so many graduating this year and so many stars I will attempt to bring focus to who and where while keeping it real as it is way too easy for this Die Hard Detroit Lion fan to want to load Detroit's draft board up with many Bronco's considering the numerous needs. Too help me do this I will forgo any favoritism by playing the role of Detroit's GM Martin Mayhew in evaluating Boise States crop of players in line with Detroit's needs.
Despite all of the attention given to drafting Illinois DE as a future fill in for an aging Kyle Vanden Bosch is just ridiculous with a first pick, Detroit has re-signed all the major free Agent signees to the D Line that is so feared across the NFL. Nope Detroit's number #1 issue is that they not only don't have a running back as last years second pick RB Mikel Leshoure not only blew out his achilles in summer practice then got bust twice within 2 months this year speeding while carrying pot, no one doubts he will at the very least be suspended this year but even if he is not the likely hood he would be ready for this season after last year's injury at 100% is slim to none, Then there is Best speedy yes tiny yep, there is no word of Best showing up to a single team event this year every indication is he's done too many concussions in his short career. Detroit has no real RB on its roster plenty of wantbe's but no one that has shown to be a threat if there was one thing Detroit's high power offense was with out its a running game, this makes Detroit's #1 need a running back and that makes Doug Martin the Top Boise State player.
A follow on piece on making the Case for Doug Martin will follow.
Detroit's Need at DE is real this would make Tyrone Crawford and Shea Mc Clellin at the top of their list for their second pick. For Me this is a hard one both are incredible athletes who have a nose for the ball and great football instinct's one could attempt to make something out of the fact that Crawford has been brought in twice for privet work outs while Mc Clellin has not. I believe this is more because they do not believe Shea will be available in the second round and with Shea's invite to New York for first day's events speaks to justifying this belief so I see Tyrone being the next target of the Lions.
While Detroit's Defensive Backfield has issues the fact is statically they did better than Greenbay's did, but that doesn't mean it's in good shape the problem here is while George Iloka can play corner where Detroit has a need, safety is not the case other than depth, however Iloka is that extreme example of talent size and speed all in one while not as swift as many corners his size males him a great OSLB project as well as adding depth at the Safety position a position Iloka can play with anyone. If and that's a Big If Iloka is there in the late third round the Lions will Draft him.
D line is one area where everyone agrees Detroit is very solid but one must consider this is a position players have a short shelf life and frankly with last years drop off in numbers and first overall pick finding himself under arrest for speeding with pot it does make sense at this spot to consider whom might be here, for this writing let's say both Billy Winn and Chase Backer are available. For some this would be a no brainer right Billy Winn? That would have been me two weeks ago but today I'm not so sure after doing a deep review of their careers I find some stunning results. While Billy was able to make himself available for more games avoiding injury , games played numbers clearly show Chase has the bigger per game numbers , Billy is a year younger as well this would certainly be a backup roll pick this is a toss-up.
With the 5th pick there is much too look at from these Bronco's. From reliable hands of clue TE Kyle Efaw to Tall brave slot WR Tyler Shoemaker MLB Byron Hout, Offensive coordinator all time record passer in Kellen Moore . I could see Detroit taking any of these players at the fifth pick, so let's look at the least likely. Detroit's loaded at TE, WR needs at least of their concerns however a backup QB that can manage the game and MLB are all needs for the Lions. Mathew Stafford is about the same age as Kellen so there is no future starting job here however Mathew has proven to be injury prone his entire career with last year being his first full season, as well Kellen brings many intangibles that will have many NFL teams looking real hard at him. Certainly in the long run Kellen Moore might prove to be the most valued pick of the draft and not just interims of play on the field. No one doubts his ability to grasp a play book and run an offense, and certainly he's made some huge plays in big games as. All that being true Kellen Moore will only become more valuable as the years pass either as trade for picks or players or just being part of the future of the organization something no Bronco fan ever wants to think about Kellen coaching in the NFL as every Bronco fan see Kellens career ending after decades of coaching Boise State.. It is written. And is known! Byron Hout offers a very interesting pick here certainly his early numbers show a apt player but nothing too outstanding, but people have to remember he was moved to MLB in 2010 from the D-Line and suffered some injuries in his Junior year. In 2011 Houts numbers are just ungodly whether it was changing his scheme as MLB or him just finally coming of age with the Position but a big fast MLB is a hard find and highly in demand in the NFL and despite the re-signing of Detroit's current crop of LB's no one has any illusion of their quality.
With the Sixth pick one name stands out large OT Nate Potter, this pick is an absolute steel here . One year ago Nate was on everyone's Draft boards a projected early first rounder saw his stock drop off drastically in 2011. Clearly a case of a guy not going when he should of. I have no doubt Potter will be playing years from now protecting NFL QB's backs side at a high level and if there is one position next to RB Detroit has a major need for its getting rid of the overpaid penalty riddled Jeff Backus. Bronco nation needs to start preparing to see players' leave early in the near future with entry into the Big East comes exposure and if there is one thing that drives NFL and media draft boards is exposure.
With the 7th pick???
Well consider this I'm not the GM of the Lions but if I was here is where I make the bold move and draft a guy with the body of a DE the size of a the Super Bowl Champs OG of late 90's Denver Bronco's OG Chuck Hayes 291 lbs of no penalties team guy who just battles. If you can find me a pulling guard with the size and speed of Hayes here please by all means point them out. Hayes not only play disciplined ball but has great foot work awesome hands and is just flat out over looked.
Players I would like to see in camp Aaron Tevis at 6'3" 232 lbs I would like to see how he can deal with TE's and pulling guards, Jarrel Root got spars playing time but considered a major part of the Boise State senior line , Jarrel is a physical beast and I can certainly see him as a pass rushing DE.
SO lets break this down round by round.
Doug Martin

Shea Mc Clellin

Tyrone Crawford

Georgia Iloka

Billy Winn

Chase Backer

Kellen Moore

Byron Hout

Tyler Shoemaler

Nate Potter

Kyler Efaw

Jarrell Root
Camp offers to Aaron Tevis and Charles Hays
12 Draft 2 camp offers talk about a senior class!
Check back Next Monday and lets find out if I'm nuts!