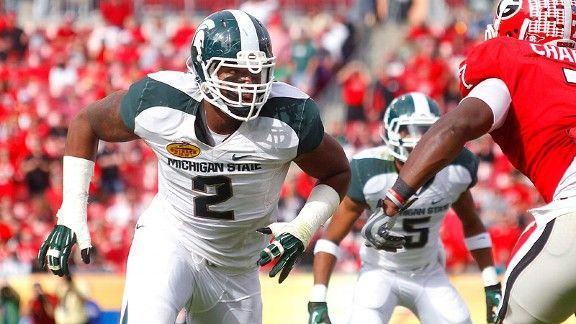 Part II from Michael Wilsom of http://www.thelittlebrotherblog.com/
They say that defense wins championships, and if that is the case, Michigan State should win a lot of them. The Spartans had a top-five defense last season, and return eight of 11 starters in 2012. Led by monster defensive end Will Gholston, the Spartans play with a tremendous amount of swagger and tenacity.http://www.thelittlebrotherblog.com/
The Spartans allowed just 18.4 points per game last season and could best that this year. The entire linebacker core returns, including Max Bullough and Denicos Allen. Allen had 11 sacks last season and 18.5 tackles for loss, while the pair combined with Chris Norman for 248 tackles and 32 tackles for loss in 2011. Allen and Bullough were both named to the second-team All-Big Ten squad, while Chris Norman was an honorable mention.
The secondary features Johnny Adams – one of the best cornerbacks in the nation – and returning starters in safety Isaiah Lewis and cornerback Darqueze Dennard. Adams and Dennard form a lethal pair of corners, forcing opponents to pick their poison. Each had three interceptions in 2011, which is not very reflective of either's skills as teams shied from throwing near Adams and Dennard missed games with an injury.
The defensive line features the aforementioned Gholston and fellow defensive end Marcus Rush. The interior line is one of the question marks for the Spartans – how to replace All-American Jerel Worthy.
On the offensive side of the ball, MSU is in a similar spot to Boise State – replacing a long-term starting quarterback. Kirk Cousins is gone, Andrew Maxwell is in.
While the offensive line – led by Chris McDonald – is strong, many of the skill positions are a bit of a question mark.
The top four receivers from 2011 are gone as B.J. Cunningham, Keshawn Martin, Keith Nichol and Brian Linthicum all graduated. In their place is a bevy of talented young receivers, led by Bennie Fowler, DeAnthony Arnett and Tony Lippett.
The centerpiece of the offense is clear: running back Le'Veon Bell. The 6-foot-3, 238-pound monster of a back is the complete running back. He catches the ball well, blocks well and runs with speed and agility.
So, as Michigan State prepares for Boise State, the question marks are there – quarterback, wide receiver and defensive tackle – but the certain also is there – the defense and offensive line. It should make for a great game – after the coming couple weeks play out and question marks are answered.