I foresee a game of change August 31st, while many look to the past when talking about this match up, MSU power running game to Boise State's finesse passing and running game I have an eerie feeling we are going to see both teams go against their own history and display something new. Out of pure necessity these teams will present a game plan that goes against everything we've seen from them in the past.
The reality for Boise State is MSU's defense is stout and experienced while Boise States field General hasn't even been selected yet, this presents a huge problem for the Bronco's. While I believe Boise State is loaded at ever position but one on the offensives side of the ball, that being the field General being untested and unproven not to mention unnamed at this late date even before fall camp, this presents a huge problem heading into camp when it comes to game planning for what is no doubt the biggest game on Boise States schedule for 2012, however this negative could be changed into a positive if the coaching staff already knows what their game plan will be, even though they don't know who will be commanding on the field. What kind of game plan could Boise State be brewing up for Sparty without an already tagged leader? Wildcat! Or should I say Boise States version of Oregon Ducks hurry up offense.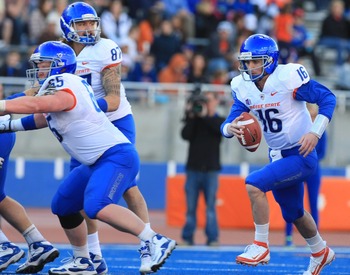 Consider this Boise State has four Young men vying for Kellen Moore's spot and as MSU QB Maxwell pointed out in Sparty's media days following behind a great QB is more about being who you are and not about how you compare to who came before you. Looking at who these guys are at Boise State a couple things stand out, they all are more athletic then Kellen was for sure but three of the four come from running QB's systems. Now why Coach Pete would recruit so many running QB's if he didn't have change in mind. We all know Coach Pete is close to Oregon, we all fear that if there is one school Coach Pete would leave Boise for its Oregon we all know Coach Pete spends time with the Oregon coaches. Add in what we saw in 2009-11, Coach Pete installed here and there the wildcat offense at times taking Kellen Moore out inserting another back or even spreading him out of the backfield ,too taking Kellen off the field altogether and inserting either another RB or a different QB to run the play. It does not take a great leap to say with Kellen gone will we see more of that kind of offense? Indeed I believe we will. My leap is I believe we are going to see a whole new offense and the fact that Boise State has so many capable QB's two of which have real game experience leads me to believe Coach Pete may be looking to run a multiple QB attack not a single field general but Multiple field generals. If coach is already leaning this way then announcing and or declaring a starter is much less important.
http://www.kval.com/sports/89854222.html
Dozens of coaches from around the state of Oregon watched Saturday's Spring practice with the Ducks.
Also on hand at the Moshofsky Center, Boise State head coach and former Oregon assistant, Chris Petersen.
Starting off with MSU considering their dominate defense I believe makes these changes even more imperative. Consider Boise States weapon and advantages. Where MSU has size and strength Boise State has speed and experience. From the Burroughs brothers to the wide receivers core Boise State can stretch the field in every direction from sideline to sideline to end zone and all places in between. Add in their deep TE core and RB's and Boise State version of Organ's offense can attack all the open gaps this offense provides. It makes no sense for Boise State to line up in the Pro set with all the motion and go head to head with MSU's power when they can attack it by spreading it out and working the seams.
17 yard TD run By D.J. Harper against TCU from the Wildcat formation.
What better way to slow down MSU massive DL and render the NFL bound LB's then to attack their weakest parts their secondary. As well the hurry up does another thing that is very effective and we saw the results of in the Georgia game it wears down defenses. While MSU starting lineup is goliath like it is not as deep and keeping those guys on the field attacking its edges with speed will have an impact. MSU will be hard pressed to keep their guys fresh and focused against an attack they were not preparing for nor had seen on film. When you look back over the last 3 years you can see the slow transition Coach Pete has been making to this kind of offense and now with Kellen Moore gone there is no reason for him not to go all in.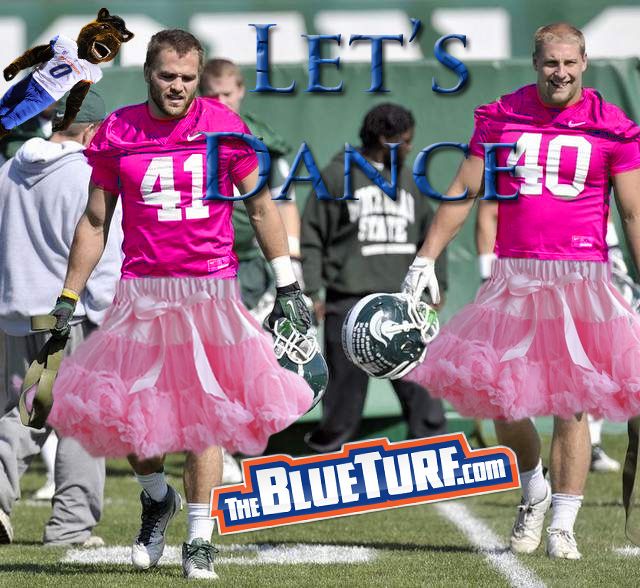 As for MSU all the talk leading up to this game has been and will continue to be about their power running game, for good reason. Returning most of the line only losing TE's and Bell siting back there ready to bring the hammer one would suspect MSU will attempt to do what every Major power has tried to do to the likes of Boise State, TCU and Fresno State Power over them. While Wisconsin has had some luck at home against Fresno State doing this but barely, TCU and Boise State on the other hand have proven they can stop any teams power running game year in year out. Rita Mae Brown in her book Sudden Death wrote "the definition of insanity is to do the same thing over and over and expect different results" I do not believe Mark Dantonio is insane and frankly he has shown an ability to think outside of the box which has resulted in more wins than Sparty has seen in decades.
Some might argue that Boise State has lost too much on their DL to force Dantonio to think otherwise. Certainly sending 5 guys from your DL to NFL camps 3 of them drafted is a huge loss of talent, but then again considering these guys are NFL quality and were seniors to those now taking over shouldn't cast that big of shadow over the pair of 300+ lbs Boise State will be fielding in the middle, both of whom have much game experience and some starts. It would also be overlooking the quality of recruits Boise State has seen these last 3 years with those young men stepping up to take over various position spending years learning and competing against those they are replacing. To think Boise State's Defense will be anything but better than the one fielded in 2009 that held Oregon to no first downs until the 6 minute mark of the 3qt (Yes the very same Duck team that won the PAC 10 out right with the nation's best rushing yardage) and fewer than 30 rushing yards total for the game should be expected. The defense Boise State fielded that day was smaller and younger than the one they will field August 31st in East Lansing. Dantonio knows this and Damtonio knows his real weakness is his best shot at winning. Maxwell is inexperienced even more so the Joe Southwhick of Boise State and experience matters as well his receiving core is even worse yet. So how does Danintio turn a weakness in to his winning card?
Danintonio must first build confidence in both his field General and receivers, of course this will be done as much as possible in camp but nothing can prepare inexperienced players for what they will be experiencing out on that big stage Friday night. Danintonio is going to need to game pan in a way to build confidence on the field during the game and the best way to do that is with a short high percentage passing game. I harking back to the one and only truly exciting game I experienced in the Pontiac Silver Dome the 1991 Divisional Playoff game against Dallas Cowboys, just like that night the crowd will be loud,(doubtful any crowd will ever be that loud) and Sparty is going to need to keep it that way the whole game. If Sparty can get a ball control passing game going early and establish it, it can possibly open up other things in the offense as the game progresses, but most important of all if they succeed it will build confidence in the players on the field and confidence alone can be enough to propel a team to achieve beyond its abilities. So don't look for MSU to come out and try to run over Boise State, MSU knows they cannot dither away the first half to Boise State in hopes they can wear them down and power over them to victory as others have tried and failed. MSU will need to come out and score early and often if they expect to win barring that it will be the other way are round where Boise State will build confidence and wear down Sparty.