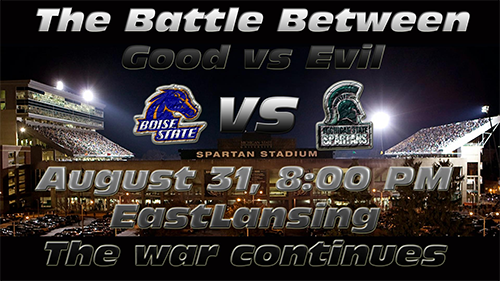 Whether you take a long or short view of the two schools Boise State and Michigan State have much in common. Both schools have State in their name and both schools are in their state capitals but the similarities don't stop there.
In relative terms it wasn't that long ago Boise State was second fiddle to what was the state premier school U of I (commonly referred to as dUI by Boise State fans). While some still in the Michigan media place Michigan State in the little brother platform to U of M (commonly referred to scUM by all college football fans) the fact is Michigan State has dominated scUM four consecutive years and frankly if Maxwell and his receivers can get it together by October 20th match up I give Michigan State the edge to win what would be a unprecedented 3rd consecutive victory in the Big House and a fifth consecutive win over scUM.
Over the last 12 years Boise State has finally established its dominance over dUI but that wasn't always the case in fact from 1982-93 dUI had won 12 in a row then went on to win 15 of the next 17 games before Boise State went on its current tear of 12 straight wins. The first times the two schools met not only were they not in the same conference they were not even in the same division of college football. Boise State was a Div II School while dUI was Div I. Boise State did win that first meeting as an underdog. While the Governors trophy did not become part of the game until 2001 in which Boise State has won it every year since. Michigan State vs. scUM have play for a governors trophy also, the trophy has it's own name the Paul Bunyan Trophy. 1953 marked the year they first played for the trophy, which was the first year Michigan State was allowed entry into the Big Ten. Michigan State however unlike Boise State is far behind scUM in the win/loss column; losing 67 times since their very first meeting and 34 times since joining the Big Ten. Closest Michigan State has come to displaying the same kind of dominance over their instate rival as Boise State has over dUI was from 1956-1963 when Michigan state had won 6 times and tied twice over an eight year period with a four game winning streak 1959-1962 since then to current Michigan State has not won 2 in a row against scUM ,this year's team stands at the door of history to do something Michigan State has never done before and that is win 5 in a row.
I'm sure if you were to ask a Michigan State fan if you could only win one of two games Boise or scUM it would be 100% beat scUM. Gratefully we of Bronco Nation don't have to make that choice, and here again lays another similarity although in reverse. For years U of M worked to keep Michigan State out of the Big Ten, while Boise isn't working to keep anyone out of any conference the fact is many in Idaho think Boise States refusal to schedule a series with dUI is a form of cutting them out of what they see as their right to have this rivalry gone on.
In state academic views of the State schools vs. the Universities are somewhat similar as well. For years Boise State was considered the lessor school and dUI was considered the leader in higher learning. However just this year the Idaho State school board removed dUI as the flag ship school of the state. It's unlikely anytime soon that Michigan State will be seen as complete equals or even better then scUM.
As for on the field both teams find themselves replacing what many consider their best every QB, both schools are returning 1 of their power RB's from last season. Both teams are led by what many consider their best head coach every,and both return a solid OL, but here is where the similarities end.
While Boise State Prides it's self on being a up and coming Technology school Michigan State prides it's self on its agricultural school. Both are cutting edge in what they specialize in but they couldn't be further apart in their direction of future academic study. While Bronco fans may power their body on genetically altered food products that are developed at Michigan State that were researched and design using SSD ram and hard drives designed and built in Boise Idaho, and while Bronco fans may drive to the game in Cadillac's built in Lansing it's highly likely the printer used at the planet to print the MSRP label as well as the ram and any ssd hard drives used in the building of the cars will have a made in Boise Idaho sticker on it.
Certainly the fans bases love their teams and the schools are fired up for game but it's equally true long before this game was scheduled Boise State needed Michigan State and Michigan State needs Boise State and after the game regardless of the result as their can only be one winner, and both teams will need each other to succeed moving forward in this age of BCS ranking.
Here's to both fan bases realizing how much alike we are and just how much we need each other.