If there is one thing to be said about playing great football for so long is all the home grown talent Boise State has to choose from in selecting the next Leader of Bronco Football.
Thanks to Boise State University President, Bob Kustra Bronco Nation doesn't just revolve around the Football team. Mr. Kustra has done a Top job of building every aspect of Boise State University. From increasing the schools academic's to bring top people into every aspect of the University from Professors to administrators. One of Mr. Kustra biggest catches of the last two years in the most visible side of Bronco Nation is AD Mark Coyle who has done a magnificent job navigating Boise States athletic department through some very turbulent waters after the NCAA level hard hitting sanction against many of the department's teams. Replacing bad coaches with new coaches and seeking out coaches who will not just lead young men and women in their sports but help mold them into future leaders.
Boise State University is seeing performances like they have never seen by its athletes off the Blue Turf.
From track & field to gymnastic to basketball. 2013 may very well end with the Mens Basketball team being ranked in the top 25 national and the football team is not. Boise State is not just about Wrestling and Football anymore and Kustra and Coyle have played a major hand in that.
With chris peterson fleeing for a green field their talents are going to be put to a major test. So far they have done wonders in their selections but none come with the magnifying glass this one does. Luckily for them I don't think they can miss as Boise State has a host of great options of which I believe all can deliver the expected success going forward. To me this makes their choice that much harder considering the candidates.
Here is my rankings of the top contenders.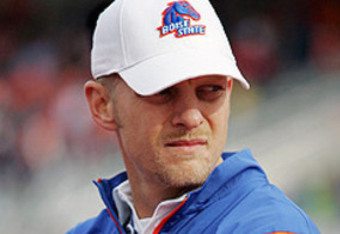 #1. Bryan Harsin. First and foremost Coach Harsin screams Bronco Man for life! Capital High school grad. QB at Boise State 3 year letterman degree in Business Management, the guy is like a wet dream!
Then there is his coach experience first at Eastern Oregon as a RB coach then back home to Boise where he coached TE's as a Grad assistant for 4 years. His first year as the OC and QB coach was 2006 need I say more? Well I can if coach pete was driving the Bus from 2006 -2010 it was Harsin who told him where to go. In his years as OC, Boise State went 61-5 3 undefeated season 2 BCS bowl wins.
Harsin left us to be Co-OC at Texas thank God they were not smart enough to really use Harsin and put him in a position where he was no longer the navigator game planner but just someone to buy Brown more time to keep his job. Gaining experience in what is arguably the largest Football program on the planet for 2 years certainly gave Harsin some great experience that when the opportunity came he snagged it as the Head coach at Arkansas State. Taking over a high powered team that just saw one of its best years finishing 10-3, 7-1 in conference. Though the team took a step back in wins this year the fact is the 2012 team was a senior laden team. In 2013 he took over and went about inserting his offense (i.e. Boise States) suffering a couple of early season losses at #3 Auburn 38-9 and at #5 Missouri 41-19. On the bright side his team followed the loss to Muzz with a beat down of dui 48-24.
Harsin is reported to have a 1.75 million buyout
#2. Dirk Koetter. Of all the coaches in consideration Dirk Koetter should be the most known to Bronco Nation. Often credit with getting the modern era of Boise State football going, Coach Koetter is an offensive genius. Always has been always will be. I have witnessed firsthand at Highland High School as a 24 year old Koetter put the relatively new school on the map of Idaho football powers.
Though leaving the school for green fields, ASU in 2001 Coach Koetter has redeemed himself nicely with his early and often comments that the biggest mistake of his life was leaving Boise State. He has in the past warned pete not to leave Boise State as it is well reported Koetter and pete are very close friends and confidants.
After years in the NFL as an OC first with the Jags then with Falcons there is little doubt Koetter has the experience and chops to drive this bus called Bronco Nation. And wouldn't be something to see Koetter vs. his good buddy pete on opening day 2015 going to war? Oh hell yeah!!!
#3. Doug Nussmeier The current OC at Alabama and former dui QB. I know some of you are like #3? Over Wilcox or even Bellotti? Yep call it my Bo gut feeling. Two seasons as OC to Nick Sabin give one chops like a SOB, especially with recruits. His list of experience is long and longer. He knows the NW having also OC'ed at Washington, he knows California having OC'ed at Fresno State, he played on the big Field in the NFL for 4 years plus coached QB's in the NFL.
I have an affinity for Bo Schembechler to me he exemplifies a great coach and many young people don't know this but when Bo took over at Michigan, the meatchickens were nobodies has beens a walk in the park they couldn't give tickets away to the bleacher bowl(also known as the big house) Bo changed all that, but did you know Bo was a Buckeye? The man who created the term Michigan Man was a buckeye! There in lays the intrigue of Nussmeier, he has the experience and ability but he's a vandal! Who could be the first modern era Bronco for life coach,
#4. Word is Mike Bellottis has interest, he was all but pushed out of the HC job at Oregon for fear they would lose Kelly and now after a couple years sitting in the booth he may be open to coaching again. He's a NW guy and a hell of a coach. He can recruit with the best of them in the NW and with his espn gig many top recruits know who he is. Bellottis could make a great transition coach. He brings stability, and will not be looking for other jobs. He would more than likely finish out his career at Boise State, at 63 years old he might only have 4-5 years to offer in the first place giving more time for the younger guys like Harsin and Wilcox to gain more experience . Coach Bellottis will not be intimidated by pete's legacy and not easily shaken when the waters get turbulent. He is someone Bronco Nation will be proud to take as their own and respect from the get.
#5. Justin Wilcox. Many have him higher on their boards then I. While I acknowledge he may very well be one of the top DC's in the game today he lacks some of the requirements that the others poses.
Boise State connections certainly, but of all the others on this list he is the most likely to follow the paths of pete, Hawkins and Nutt. I just don't feel comfortable with him being someone that will stay.
Others in consideration Brent Pease, and Michigan's OC AL Borges
My real fantasy would be for Bellotti to step up grab the reins Bring Koetter as assistant HC , Harisn as OC and Wilcox as DC. With agreement that the torch would be passed down from him to Koetter then on to either Harsin or Wilcox . That would make one very powerful coaching staff that recruits would flock to and be more dominate then you could possibly every imagine. We don't have deep pockets to make that happen frankly no one does. In fact I would be even more elated if any two of those guys would come together in Bronco Nations time of need but that isn't going to happen.
The it's a bad news good news bad news however for Kustra and Coyle, bad news pete left and he's taking the kitchen sink with him, good news there are many top quality Boise men available to filling the cupboards the bad news you can only get 1 of the top guys the rest you are going to have to take some chances on.
In the end what Boise State has built over the years is why this departure of pete will just be a blink in time anyone can learn motivation every top organization in the business world has them, when I read comments from players about pete I think well duh those are the practices and principles of every successful business in the world I guess it's just rare to find someone in college athletics that knew it, well I got news for you folks they all know it now.
On word and forward Bronco Nation fear not we are in good hands.