I cannot believe I'm going down this path, but this just goes to prove just how crazy the last 4 years in college football has been with all the past season undefeated teams but here we are with 2 weeks to go and if you add in conference championship games 3 weeks left for Boise State to move 6 spots in the BCS and get an automatic qualifier.
Red are teams we need to lose Green are teams that will lose and yellow are teams that we might jump if they lose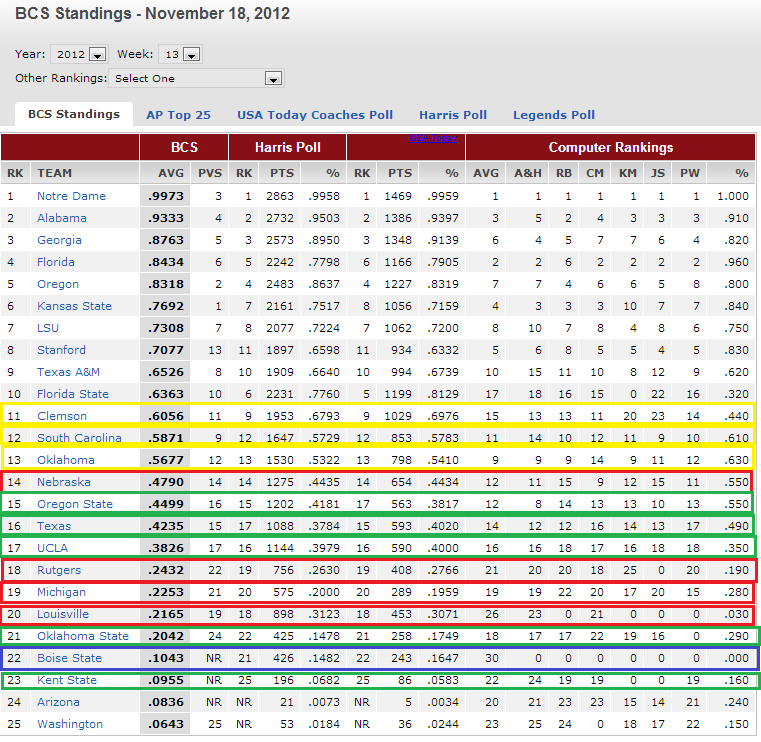 Couple house cleaning items here first the MWC doesn't have a conference tie breaker so regardless of ties its which every team is ranked the highest when it comes to the BCS; Second unlike TCU last year who had two out of conference losses and was undefeated in conference they didn't have a 7-4 opponent who had a quality win over a BCS conference school to finish up with as Boise State does in Nevada so they got zero help in either the human nor the computers in the last week where Boise State does.
Before the total collapse of several teams this last 2 weeks I had all but given up on any hope after the letdown of the SDSU game of there being any chance of making a BCS bowl, but with the fall of Louisiana Tech to Utah State and the crumbling of the Big East schools and though the door of being ahead of a B1G school is all but shut with #14 Nebraska or #19 Michigan with almost a shoe in to a BCS bowl with a higher ranking. The BE is where the hope is the greatest in overcoming the conference champion in the final BCS poll.
While Nebraska finishes with Iowa on the road and total control of their own destiny. Iowa shows little life in it to beating the cornhuskers; meanwhile Michigan would need to beat an unbeaten OSU at the shoe just to have a chance. Both very unlikely scenarios in fact look for Michigan to get stomped the Buckeyes which is a good thing another team to get out of Boise States way to the top 16. Boise States best hope to being ahead of a B1G school would be for both Michigan and Nebraska to loss their last regular season game and then lose to an unranked Wisconsin team in the conference championship. Though this is a possibility again I would say highly unlikely based on Iowa's showing to date/ The Worst possible out from the Big for Boise State would be for both Michigan and Nebraska to win out as this would be disastrous, certainly giving Michigan a repeat of last year's double dip fraud with the Michigan vs. V-Tech match up and no doubt the B1G would be pulling string hard to get a second bB1G team off to a money bowl. Highly unlikely considering OSU's mission of going undefeated and their total hatred of the Meatchickens. With Michigan week looming you can bet everything you have everyone in Columbus only has one thing on their mind kicking the meatchickens asses!
Un the best case both Michigan and Nebraska losses out this moves Boise State up 2 spots from 22 to 20 expected result from the remained of the B1G is 1 so now we must find 5 more opportunities.
The Big East looks to be able to supply not just the opportunities it looks to supply the all-important lowest ranked BCS qualifying conference as well. #18 Rutgers has to travel to a up and down Pitt team that I think will be ready to avenge a loss to a UConn , While a Rutgers loss next week will help a Rutgers win in the last week against #20 Louisville will become almost a must unless UConn can pull a surprising up set on the road over Louisville next weekend. Of the 2 opportunities that both leading BE teams have all we need is of both of them to drop one of which one loss is assured as the play each other at the end of the season so best case would be for Pitt to knock off Rutgers this weekend at home and then Rutgers to beat Louisville at home for the right to represent the BE in a BCS bowl .
While there are two conferences within reach I think you can see why I believe the best chance is overcoming the BE than the B1G.As it will be a must that Boise State over take a BCS conference to get a BCS bowl that is not all that must happen we must also get to the #16 rank in the BCS poll.
We must first understand to be eligible to go we have to overtake a BCS conference and if we have done so that would mean 3 of the 4 team list above would have lost at least 1 game and this would open up 3 spots for Boise State to move up to #19 leaving 3 more spots to get to the needed #16 . First thing we have to consider just what teams that are ahead of us today are also within reach to falling at this late date behind us and are there any Mid Major team behind us that could pass us. #23 Kent State is the only team behind us within reach and the computers certainly love them as compared to us but that will change I'll address that further down. Kent state has N. Illinois left on their schedule and I'd give a snow ball in hell a better chance; Though Kent does have a quality win against a ranked BCS opponent that being Rutgers they also have a butt whipping put on them by Kentucky on their record, and while some might say yeah but what about N. Illinois; they are just way to far back in the human polls to catch Boise State. The fear of a Kent state rise while teasing just isn't that feasible even if they win out.
When looking forward to the other teams while there isn't many there those that are, are exceedingly good candidates. #17 UCLA has a date with Stanford and then with the PAC 12 North Champ left they are sure to drop them both as that date will more than likely be a rematch. Next up #16 Texas who has TCU and a road game @ Kansas St certainly I see a loss or two in Texas future. Lest we forget about Oklahoma State who faces #13 Oklahoma and Baylor in the first game it's almost like one hand washing the other as a loss by OU to OSU would certainly spell doom for OU in the season finally @TCU . After that there is #15 Oregon State who gets a very pissed off Duck team however it is at home. The #11 Clemson vs. #12 South Carolina provides an interesting matchup baring a blowout I could only see the game cocks having the potential to fall past us because Clemson has only 1 loss to South Carolina's 2 giving them a third loss just might push them back of us but that would be a stretch.
Regardless the most important part of Boise State having any chance is it must pass either the B1G or the BE, and if it does the chances of getting a BCS automatic bid should become a reality as it is a near impossible to get to #12 it is very possible to get to #16 and with two chances at overcoming a BCS conference champion it's worth speculating on.
Certainly 3 weeks ago a win over SDSU would have already put us in position for the Automatic qualifier possibly even in to the #12 spot however since that dreadful night 3 weeks ago much has changed on the college landscape and not just who's at the top but just maybe who else might be coming to dinner.
If Michigan, Nebraska, Rutgers and Louisville were to fall next weekend you can be assured the TBD could quickly go to a prime time ESPN game and who knows maybe even Games Days first appearance in Reno! Certainly we've seen some crazier things these last 2 weeks!
Mathew 7:14
but it is a narrow gate and a hard road that leads to life, and only a few find it.
If all else fails we'll get to beat up on USC in the Maaco Bowl!