MSU QB in waiting Andrew Maxwell a Midland High Grad( I personal Hate Midland High) sprained his knee in practice Saturday.
junior Andrew Maxwell, was backing up to get away from the defense in a scrimmage Saturday and he fell backward, injuring his knee. Coach Mark Dantonio said Tuesday it was a sprain that doesn't require surgery, but Maxwell could be out the rest of spring drills.
Advance video to the 4:59
It's now being reported he is out for the rest of Spring and will not play in this Saturdays spring game.
However before spraining his knee he wasn't having a good day to begin with.
Maxwell has been anointed as Kirk Cousins' successor since last season, waiting three years to take his turn and operating in the spotlight all spring.
It hasn't all been smooth — there were a pair of interceptions earlier in Saturday's scrimmage, though Dantonio said they were more All-Big Ten cornerback Johnny Adams' taking a chance than Maxwell's mistake — but he has been consistently holding the top reins.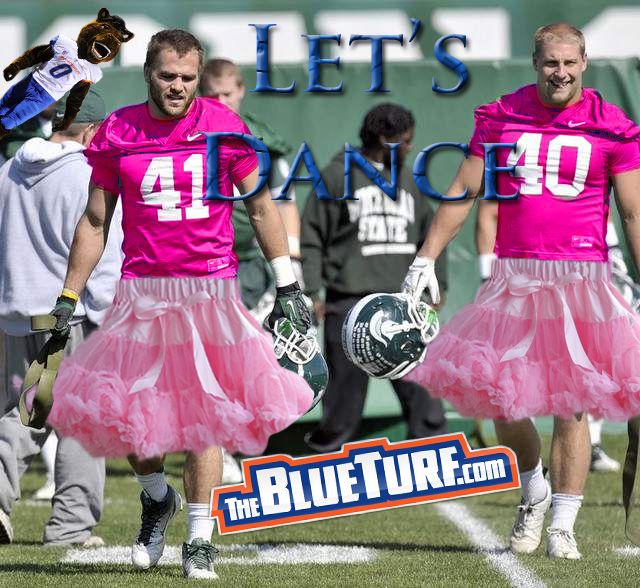 MSU Linebackers are clearly the heart of this team
After a season in which the Spartans were one of the best defenses in the country, and the linebackers were the heart of the unit, all three starters return.
Middle linebacker Max Bullough led the Spartans with 89 tackles last season, followed by outside linebackers Denicos Allen (83), who added a team-best 11 sacks, and Chris Norman (76).
"I don't think pressure is the right word, it's more excitement," Bullough said. "With a lot of guys coming back, we just have the same players with another year of experience. It's an opportunity to prove that we're better than we were last year and an opportunity to be one of the best football teams in Michigan State history."
Highlights from last years Spring game stay tuned for this years.
Certainly if there is one part of MSU's team that must be game planned for its sparty's linebackers and if there is one thing Coach Pete is the best at is gaming planning to eliminate your strongest asset, look for Coach Pete to use lots of motion along with disguised max protection schemes to burn MSU with over the top deep plays using over all team speed and rout running. Using play action suck MSU LB's to open up the middle for Gabe Lenhan as the out let combined with double moves on the outside to take advantage of overly aggressive MSU DB's looking for the big over the top plays.
Running backs run wild in Michigan State football scrimmage
Would appear however good MSU LB's are their D Line and DB's have a long way to go..
Dan Conroy kicked a 45-yard field goal on the final play of a 2 1/2 hour scrimmage today to give the offense a 62-59 win over the defense. A modified scoring system was used.
Tailbacks Larry Caper, Le'Veon Bell and Nick Hill combined for 206 yards on 46 carries and three touchdowns to lead the offense. Caper had 21 carries for 106 yards, including a 22-yard touchdown run. Bell gained 48 yards on 13 carries and scored on a two-yard run. Hill ran for 51 yards on 12 carries and scored on a 15-yard run.
Walk-on John Jakubik led the receivers with four catches for 37 yards. Fullback Trevon Pendleton caught a three-yard touchdown pass from Connor Cook (15 of 34 for 144 yards), who took the majority of the snaps with Andrew Maxwell out with a sprained knee. He completed passes to 10 different receivers.
Could MSU have QB competition? Time will tell lets see how the spring game goes on Saturday
William Gholston led the defense with 10 tackles, includeing five for losses (17 yards) and an eight-yard sack. Denicos Allen had five tackles, two for losses, and a six-yard sack.
Defensive tackle James Kittredge, a transfer from Vanderbilt, had a forced fumble, fumble recovery and pass break-up. Safety R.J. Williamson led the secondary with six tackles and also recovered a fumble.
Considering the scoring that took place would seem at this point MSU Defense is a big play D it either makes a big play or gives it up !