Don't look now folks but this 2012 team is well on its way to getting the school's first every automatic BCS bid and to do so even with a loss on it record. With a huge jump in point in the coaches poll this week; 271 & 22nd ranking in week 8 to 401 and 18th in Week 9. Football coaches across the country gave Boise State a major shout out and a timely sling shot up the ladder in the polls. Add in the Harris Poll with an even larger jump in points and ranking spots from 23rd and 488 points to 19th and 762 points give us a Human poll average of 18.5% I understand the putters gutted us today so we didn't see a jump in the BCS like we did in the human polls, but fret not 8 out of 10 of the teams between us and the top 10 will lose between now and the end of the season and the only teams behind us we need concern ourselves with is the Meatchickens and Wisconsin both of which will suffer at the very least a single loss between now and then.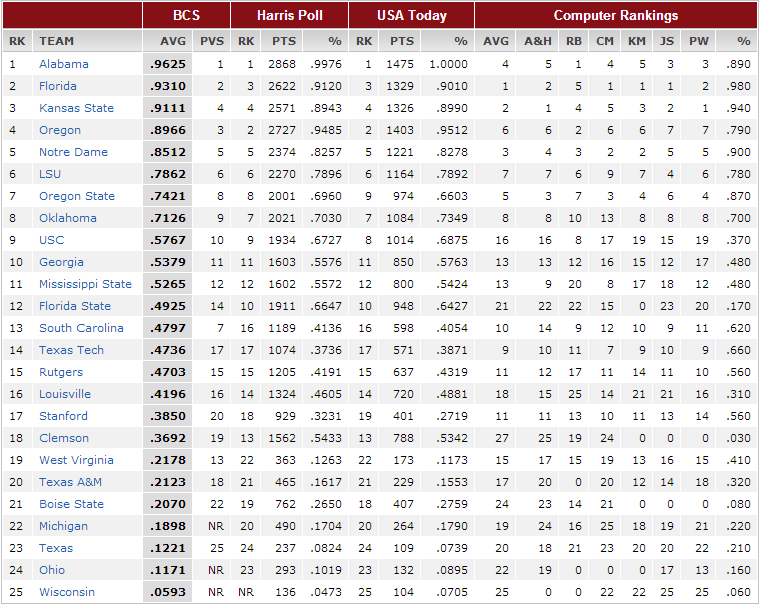 The biggest key to this automatic qualification is in that we need to be ranked ahead of a BCS conference champion which at worst looks to be the Meatchickens whom the coaches have placed two spots behind Boise State and almost a 150 points back as well though they beat a team we lost to in week 9 BCS poll we are still 1 spot ahead of them. No other team in the B1G has the schedule left to have the opportunity to jump us and with Nebraska, Northwestern and OSU left on the Meatchickens schedule the Meatchickens are sure to drop at least one of those if not 2.
All that is needed is for 5 teams in front of us to drop a single game and at this late stage Boise State should not only be able to move forward the five spots necessary for the automatic bid but regardless of schedule hold the 16th spot; so long as they win out.
So we can count 1 team going down in front of us as both Rutgers and Louisville will play at the end of the season however both have challenging games before then and could easily drop one, this however is not something we want as the more highly ranked BE teams standing at the end of the year the better for next year's pre-season rankings and strength of schedule impressions. Best case only one BE team drops a game from here on out so we need four other teams to take a fall and when you look at the candidates and their remaining schedule Texas Tech, Clemson and or South Caroline who play each other in the last game of the season are tops on my list but there are plenty more potentials Georgia and Florida state being the others as they both have Florida remaining on their schedule worst case is for Florida to split in close games , best case they win them both or drop them both. West Virginia and Texas A&M have brutal schedules ahead of them and both with two losses already a third drops them completely out of the polls and this is sure to happen. I believe this is why the human polls already have us ahead of teams like Stanford, WV, Michigan and A&M because the humans pollsters are looking ahead and they see the loses coming and have discounted those teams.
But what about Stanford? Stanford being just 6 points back could overcome us but to do so they would have to wreck havoc on two teams ahead of us Oregon and Oregon State and win the PAC 12 Championship game as would any other PAC 12 team other than the Beavers and the Ducks. Considering Stanford's over all play this year I can see them Beating the Beavers but not the Ducks, as well just a win over the Beaver might seem harmful to our cause remember the Beavers still have Oregon to play so a little blood here and there shouldn't keep us out of the 16th or higher ranking from PAC 12 teams.
No matter how you cutter so long as Boise State continues to win and improve there is just no way of keeping them out of the top 16. All the head to head match ups as well as conference championship games assure us that the teams now in front of us and those closely behind us will lose games from here on out .
When you look at the entire schedule of all the teams in play and rationally consider all the games and the impact on the polls they will have Boise State in the human polls could get as high as 10 and at the very least 14th. This is actually where I believe we will need to be to counter the sure slide in the computer polls that will come from our remaining games.
When you look at Boise States remain schedule through the eyes of history you see under achieving teams everywhere San Diego, Wyoming, Hawaii and Nevada just waiting to take a bite out of us before we move on to the BE. With 5 games remaining three are on the road. Wyoming can play tough and certainly last year they brought their A game though they have struggled this year to look past them could be fatal. SDSU has been in every game this year thankfully we have them at home , Hawaii is learning a new system and I would just hate to be the team that plays them if they start to jell and get caught looking past them. Nevada is Nevada you just know it's going to be an ugly game, a blow out there would certainly propel us to a #10 ranking however if the cards fall the way I think they will fall it still might be possible even with a fluke close loss, a BCS bowl might be possible so long as Nevada drops a game between now and then but only 1 game preferably to Air Force next week.
Lots of football to go no doubt and with the coming together of the running game with Dj, Ajayi and Fields all looking like world beaters , along with the O line starting to jell and Southwick gaining in confidence by the week I'm already checking out flights and hotels for the Orange bowl . While I'm 99,9% sure the other .10% holds out that the only change possible for my January schedule is the dates.